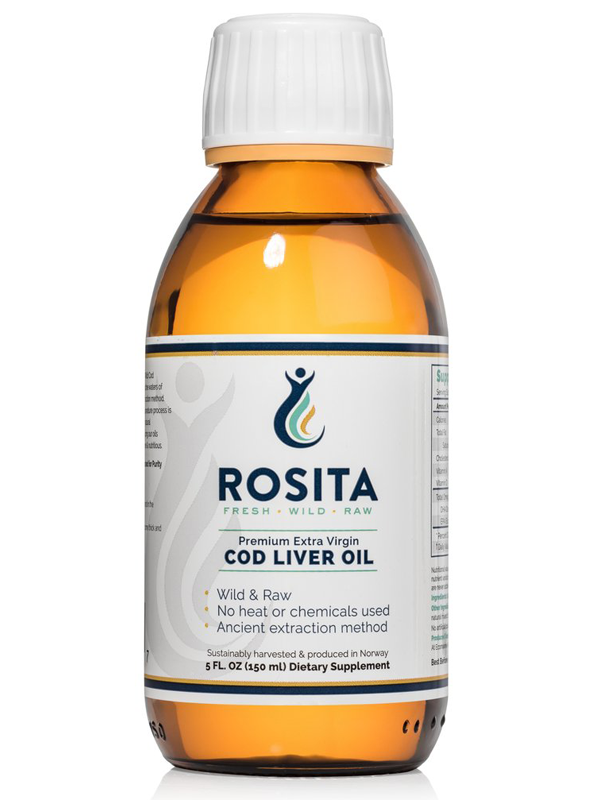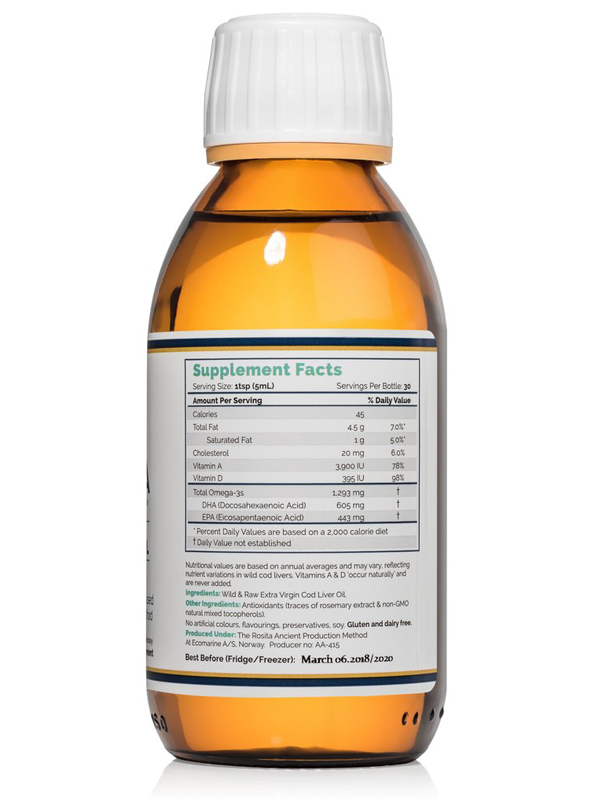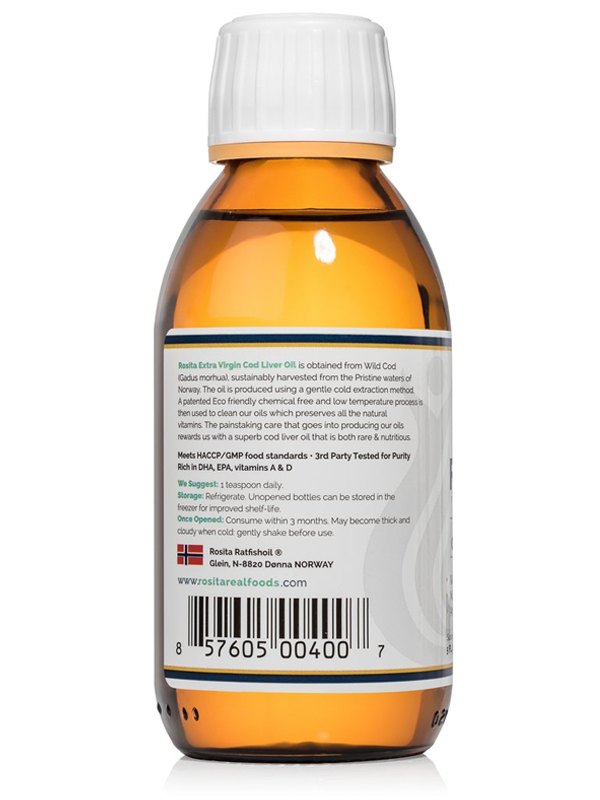 Cod Liver Oil Rosita - Liquid
Pickup currently unavailable at Light Cellar
Cod Liver Oil Rosita - Liquid
Light Cellar
Pickup currently unavailable
6531 Bowness Road Northwest
Calgary AB T3B 0E8
Canada
+14034531343
Rosita Extra Virgin Cod Liver Oil - Wild & Raw
Wild caught and sustainably harvested from the Helgeland fjords of northern Norway.
Raw and handcrafted by the Rosita family, using a rare, exclusive and generations-old cold-process extraction technique that turns to nature to separate the oil from the livers.
Fish to fresh oil within hours!
Mild, fishy, buttery taste.
Contains only naturally-occurring vitamin A and vitamin D in the concentration and proportion nature intended. No synthetic vitamins are added.
Gives you 395 IU vitamin D3 per teaspoon and 3,900 IU vitamin A per teaspoon (with some variation batch-by-batch due to naturally occurring seasonal shifts).
Gives you 443 mg EPA and 605 mg DHA per teaspoon, along with a full spectrum of omega fats, including 3, 4, 6, 7, 9 and 11.
Not

 

winterized like other oils in order to preserve full spectrum of nutritious fats that protect against oxidation.
Made only from Atlantic cod (Gadus morhua) caught by line (no nets!) in the pristine waters near Dønna, Norway.
Created in small batches.
No heat, bleach, solvents, mechanization, winterization or chemicals are used.
Nitrogen-flushed glass bottle minimizes oxidation, with minimal exposure to oxygen and light and no exposure to metals.
Each batch is tested twice for contaminants and monitored to maintain strict EU standards before being exported.
A tiny drop of natural antioxidants - rosemary herb and full spectrum vitamin E (from sunflower seeds) is added to maintain freshness.
Oxygen-free bottles can be shipped without cold packs.
Please shake before using!

 

Because this is a raw, minimally processed product, the naturally-occurring fats in the cod liver oil can collect at the top of the bottle. Shaking before each use helps distribute them evenly.
Fresh, wild and raw
After searching the world for a high quality, minimally processed cod liver oil, we found Rosita's tiny operation perched on the grassy banks of Norway's northern Helgeland fjords.
And – based on our two-year investigation, including talking personally with dozens of cod liver oil producers – no one else in the planet makes it like Rosita does . . .
Instead of using nutrient-destroying chemicals and heat like most other manufacturers, Rosita uses an ancient method that gently extracts the oil from the livers by mimicking the forces of nature. It's a method that was developed by the Viking druids and has been handed down through the generations.
See, ancient Norwegian people discovered the livers of cod and other fish gave up their oil naturally if processed strategically right after harvest. Rosita follows the same process in their small facility on Dønna Island in Norway, yielding the only fresh, wild-caught and raw cod liver oil on the planet.
How Rosita Extra Virgin Cod Liver Oil is crafted
Each batch of Rosita EVCLO is carefully handcrafted without heat, chemicals or exposure to metal in Rosita's dimly lit, cool facility (as light and heat accelerate oxidation).
First, after removing the livers from the fish, they gently expose them to near-winter conditions (like the cold waters where the fish swim). They then gently allow them to warm them up to just a bit above freezing. This gradual shift in temperature and pressure breaks down the liver cells. Within an hour or two, they release the oil with all its nutritional goodness.
The oil is then gently filtered using a natural marine material that absorbs contaminants like a magnet for easy removal. Next, the oil goes through a series of paper filters. Each batch is tested twice to meet strict EU standards for export and to ensure they're free of heavy metals and contaminants.
In addition, tiny amounts of a carefully selected organic rosemary extract and full spectrum vitamin E is added to ensure freshness.
Each bottle is then nitrogen flushed to remove any oxygen and protect the contents from oxidation. This protects the cod liver oil even when shipped or stored in extreme heat, since oxidation cannot occur in the absence of oxygen.
As a result, you get a delicately fishy flavored – almost buttery – fresh and nutrient-rich oil.* It's as close to the oil in the living cod fish liver as you can get!
Nutritional benefits of cod liver oil*
Rosita Extra Virgin Cod Liver Oil gives you nutritional benefits of a whole, nourishing food. As you may have read above, it's a source of naturally occurring vitamins A and D, and omega-3 fatty acids (it also has the full spectrum of omega fats!).
Unfortunately, most Americans don't eat enough anti-inflammatory foods that provide these specific nutrients, which play an important role in cardiovascular, hormonal, immune, reproductive and neurological health.* With that, many adults and children may benefit from regularly supplementing with a fresh and raw cod liver oil.*
To name just a few benefits, omega-3s are known for reducing inflammation, preserving brain health and fostering child development.
Vitamin D helps maintain the the health of bones and teeth and supports the immune, brain and nervous systems.
And vitamin A is an important antioxidant that helps soothe free radical damage and thereby, inflammation levels. It also supports healthy skin.
How Rosita EVCLO differs from all other cod liver oils
No heat:

 

Our oil is raw and never exceeds room temperature! Every other cod liver oil manufacturer uses heat multiple times in excess of 300°. Even "cold-processed" cod liver oil gets superheated during molecular distillation and deodorization.
No chemicals:

 

Rosita does not bleach or deodorize the cod liver oil.
Exposure to light and air is minimal:

 

All work is done in a cool, dimly lit facility.
No metal ever touches it:

 

As reactive metals can accelerate oxidation, even the knives used to harvest the livers are ceramic.
Not winterized:

 

Most cod liver oil is "winterized", an industrial term that takes the oil to well below freezing to remove saturated fats, waxes and stearins that will solidify as it cools. Without winterization, Rosita oil keeps the full spectrum of nutritious fats and is better protected against oxidation
And it's not fermented:

 

With fermented cod liver oil, the oil is released after the livers have decomposed over a 6-month period. Rosita EVCLO is raw, fresh and produced within hours of catching the wild Atlantic cod.
Every step in how Rosita's cod liver oil is produced has been meticulously developed to minimize damage to cod liver oil's precious nutrient cargo.
Rosita's carefully handcrafted, raw and minimally processed cod liver oil has astounded marine oil experts with its exceptional quality and low rancidity.
Each batch consistently shines.
But that's not all . . .
Rosita goes beyond sustainability: They
 

are

 

the fishermen

To make good cod liver oil, you need to start with good healthy livers, harvested from good healthy fish, fished from good, clean waters.

And the only way you can do this is to know the fishermen who start the whole process.

Every liver that is used in Rosita Extra Virgin Cod Liver Oil is harvested from fish the Rosita team catches themselves in the pristine waters of the Helgeland coast of northern Norway.
They come from a long line of fisherman!
They use only their own small fishing boats.
Every fisherman who fishes is part of the Rosita "family."
And every fisherman fishing for Rosita uses only lines – no nets.
Rosita doesn't make mass purchases from anonymous fishing fleets that have some industry created marine fishing counsel monitoring their activities. No. Just like when you know your farmer, you know where your food is coming from and how it's processed.
Rosita knows the fishermen, as the fishermen are part of Rosita!
And every Rosita fisherman loves the pristine waters they fish in with all their heart, which have been near their homes for generations. This is because fishing sustainably is not just an idea. It's a way of life.
Further, when the Rosita fishermen return from each trip, they inspect each fish and liver individually. The livers are removed with a ceramic blade (not metal), and then quickly moved to the crafting facility overlooking the chilly waters, where the cod liver oil is made in small batches within hours.
Renowned holistic practitioners recommend Rosita EVCLO
As you can see, Rosita goes above and beyond to make the finest cod liver oil – fresh, wild, raw and artisanally crafted. But don't just take our word for it. Well informed practitioners and health leaders around the world recommend our oil to their clients, including:
Dr. Terry Wahls, Clinical Professor of Medicine, University of Iowa; author, "The Wahls Protocol"
Chris Kresser, a leader in paleo-nutrition
Beverly Meyer, Clinical and Holistic Paleo Nutritionist
Shane Ellison, "The People's Chemist"
Dr. Natasha Campbell-McBride, author of "Gut and Psychology Syndrome"
Kitsa Yanniotis, Certified GAPS Practitioner, BED Practitioner, founder of Kitsa's Kitchen and Emporio Organico
Dr. Ron Schmid (late), author of "Primal Nutrition: Paleolithic and Ancestral Diets for Optimal Health"
Ann Marie Michaels, Cheeseslave blog
Jaclyn Harwell, The Family that Heals Together blog
Jenny McGruther, The Nourished Kitchen blog
Liz Wolfe, "Real Food Liz," Nutritional Therapy Practitioner, best selling author
Of course, the real experts are you and the thousands of customers who have found that Rosita supports their bodies and their health.*
Ready to see how good Rosita Extra Virgin Cod Liver Oil is for yourself? Get a bottle today!
Disclaimer: Please consult with your physician before using Rosita, or taking this product if you are pregnant or lactating, diabetic, allergic to fish or iodine, using blood thinners, anticipate surgery, have a diagnosed cardiovascular condition, nutrient absorption issues, dealing with a chronic disease, bleeding or immune system disorders. Keep out of reach of children.
Shipping info:
Refrigerate upon receiving. (Please note, Rosita fish oils are nitrogen-flushed to remove oxygen before sealing the bottle, which preserves the oil's freshness in all temperatures).
Rosita can ship safely in all temperatures. And it retains its freshness, even it arrives warm or hot. This is because heat can only affect the oil's freshness in the presence of oxygen. Your bottle of cod liver oil liquid is nitrogen-flushed (to remove oxygen) before sealing the bottle. The softgels are also sealed tight and completely protected from oxygen. This feature allows us to ship to you, even without ice packs!