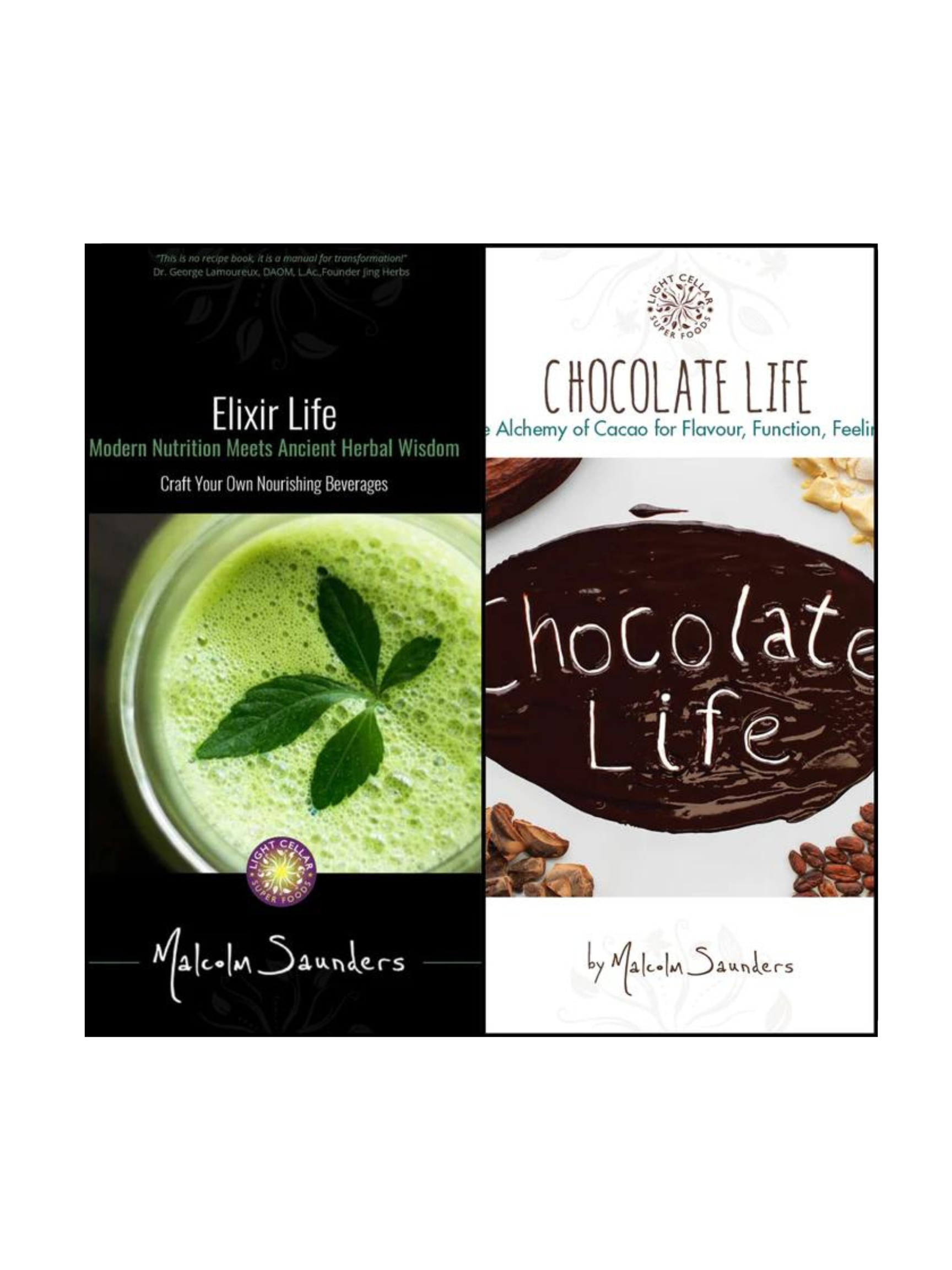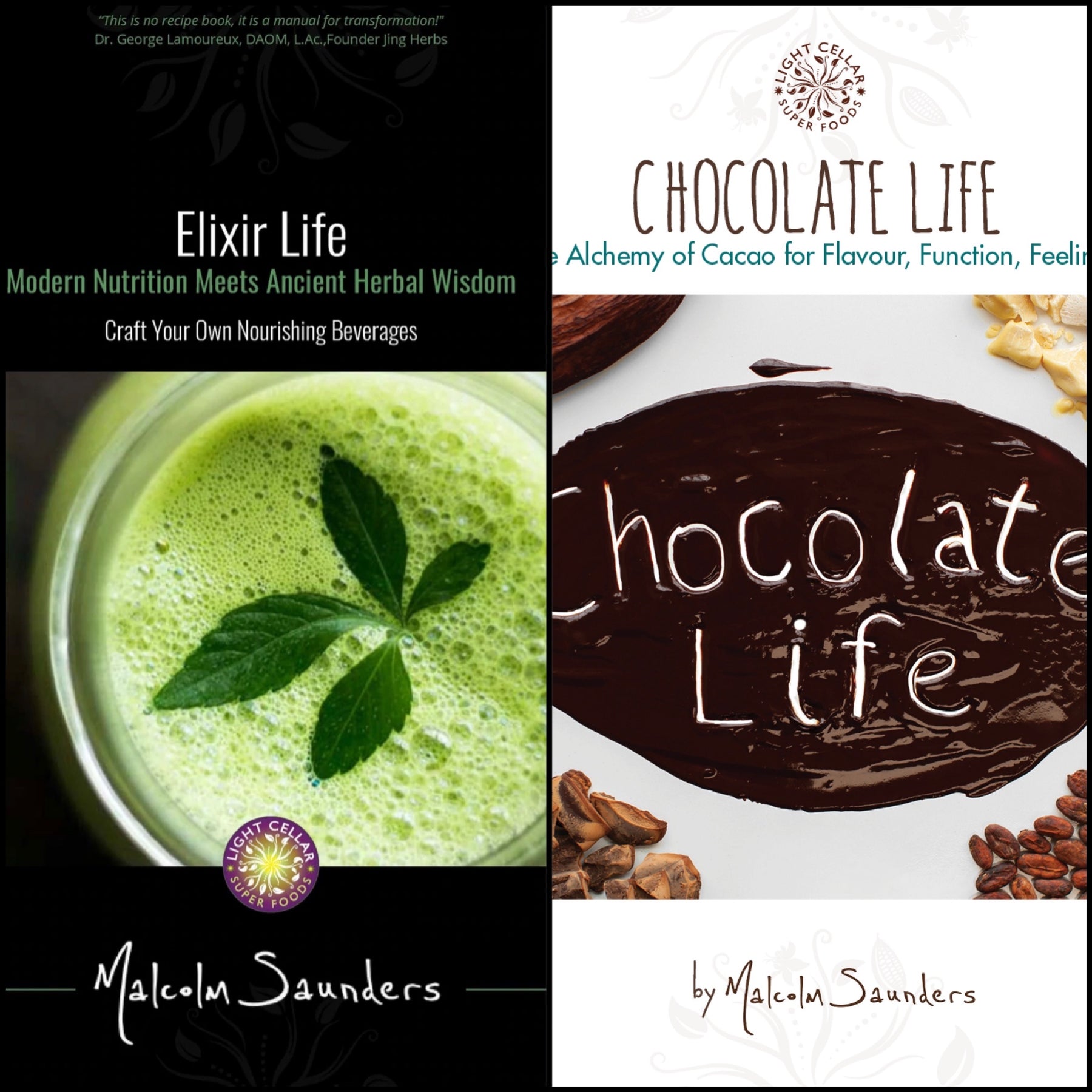 Elixir Life & Chocolate Life Book COMBO
Pickup available at Light Cellar
Usually ready in 24 hours
Elixir Life & Chocolate Life Book COMBO
Light Cellar
Pickup available, usually ready in 24 hours
6531 Bowness Road Northwest
Calgary AB T3B 0E8
Canada
+14034531343
Elixir Life & Chocolate Like Book COMBO - Written by Light Cellar Founder, Malcolm Saunders 
Get both of our recipe books!
This is a package deal containing Elixir Life: Modern Nutrition Meets Ancient Herbal Wisdom as well as Chocolate Life: the Alchemy of Cacao for Flavour, Function & Feeling

You will save on shipping and a discount when you purchase a physical copy of each of these books together.
Elixir Life Book - Malcolm Saunders 
Description:
YOU ARE ABOUT TO ENTER A WORLD OF HEALING, DELIGHTFUL, SACRED AND TRANSFORMATIONAL BEVERAGES…
Welcome to Elixir Life.

When you first taste an Elixir you'll be delighted to discover something different than a green juice or a smoothie, a beverage that fulfills the need for energy and the desire for something deeply delicious. Whether you prefer a drink hot and warming, or cool and refreshing, Elixirs are beverages which answer our need for both immediate nourishment and long term health.

They might just be the ultimate in everyday self-care and nourishment.

Elixir Life contains all the tools, teachings, and resources needed to begin exploring new foods and herbs. Dive deep into the science, the cultural traditions, and learn from others, what foods are good for you.

This book offers specific recipes and ideas, and, most importantly, empowers you, the Elixir crafter, with concepts from which to launch personalized versions. 
The fun and freedom of being your own Elixir crafter awaits you…
Testimonials:

"This is no recipe book, it is a manual for transformation! Malcolm Saunders has given us a masterpiece of elixir alchemy to nourish and energize our bodies, clear and expand our consciousness, and gladden our hearts for our spirits to soar. In my many decades as a Taoist tonic herbalist, I have been waiting for this book. Well, the wait is over, let's all start living the 'Elixir Life.'"
-Dr. George Lamoureux, DAOM, L.Ac., founder Jing Herbs.


"Elixir Life is filled with unique, informative, and imaginative health beverages. Malcolm Saunders, the Superfood Alchemist, has crafted a remarkable assemblage of great tasting recipes to inspire, and promote well-being in everyone."
Robert Rogers (RH) AHG
Author of the Fungal Pharmacy: The Complete Guide to Medicinal Mushrooms & Lichens of North America


"I've had the honour of working with Malcolm Saunders over the course of many years, and it's always a joy to be in his kitchen. As long as I've known him he's relentlessly pursued food as medicine, always with an emphasis on making it available to his community. Whether in his home, shop, or teaching kitchen, Malcolm mixes up modern herbal super-nutrition that somehow feels like home cooking. In Elixir Life, Malcolm shares recipes that not only deeply nourish, but also teach you the foundation for a lifetime of improvisation. Start here, and your own unique, hand-crafted recipes will follow."
-Daniel Vitalis, 
Host of the ReWild Yourself Podcast
Founder of SurThrival.com and FindASpring.com


"In-depth and delightful… Elixir Life guides you in new ways to fuel your body and imbue your inner alchemy with the best offerings from the botanical world."
-Nadine Artemis, creator of Living Libations, author of Renegade Beauty and Holistic Dental Care


"A unique book like no other, Elixir life is an essential read for anyone interested in the art and practice of elixir crafting, daily tonic herbalism and intuitive eating. Malcolm does an amazing job of guiding the reader through defining, sharing, and exploring the nourishing aspects of what an elixir truly is - while equipping them with the skills and experiential wisdom for true ongoing success in their crafting. With a dazzling array of mouth watering recipes and stunning imagery, Elixir Life will leave the reader becoming a 'Master Elixir Crafter' in no time…"
-Derek Fleming M.H. (Master Herbalist), Founder and creator of 'New Earth Organics' & 'Vital Essence Herbs'

In his book Elixir Life, Malcolm Saunders breaks down the mystery around crafting elixir drinks into an easily digestible and user friendly format. Full of mouth watering imagery, great information and delicious recipes. You are sure to drink up these pages, finding all the inspiration and support you need to take your nourishment to the next level.
  
If you are new to this concept, this book will likely change your perspective on food forever! If you are familiar with elixirs already, you will gain great insight and new ideas for expanding your elixir crafting experience. 
-Yarrow Willard Cl.H. (Herbal Jedi) Owner of Harmonic Arts

"In your hands you have an enchanting, delicious collection of recipes to continue (or begin) your journey into herbalism. Malcolm demonstrates deep respect for the herbs and their traditions to show that elixirs are more than just food; they are a hobby and a passion!" 
-Madeline MacKinnon, founder of Natural Hormone Healing
"I am sincerely ecstatic for the people that are blessed to have found their way to this revolutionary book. 
As someone who has been enjoying elixirs since the introduction of them into our cutting edge health scene many years ago, I know the strong impact they have upon one's health, vitality, and well-being especially if included as part of a morning ritual. It's been a deeply nourishing act of self-care and is something that I truly look forward to every single day! 
Share these concepts with your friends, family, and those that you want to see flourish in life in all ways! These are such creative recipes and have the potential to positively change the course of your life, as they have mine! I'm eternally grateful to know of this wisdom and know you will feel the same." 
-Bethanne Wanamaker, Founder of EdibleGoddess.com and Creator of Everlasting Youth, the women's health tonic herbal beauty elixir


"The magic of plants, and the art of crafting Mother Earth's finest gifts into elixirs has literally saved my life, elevated me to new levels and deepened my connection to the divine. The Light Cellar has been my sanctuary for many years, a place where my soul has seeked refuge, and peace. I am thrilled to see a cook book on how to craft all of the magic in our own kitchens. Malcolm is a role model in my life -- for obvious reasons -- and this book is a testament to the love he has for plants, humans, and the gift of crafting potions. What a treasure" -Kori Leigh, Creator of Farmapothique
Chocolate Life - Malcolm Saunders 
Description:
CAN CHOCOLATE BE BOTH NOURISHING AND DELICIOUS?
Absolutely!!
Get ready for the good news about chocolate. 
You can upgrade your health in fun and easy ways through chocolate.
Discover a simple process for making your very own nourishing hand-made, home-made chocolate.
This book blends timeless wisdom with modern science in one easy yet comprehensive read. Chocolate Life offers everything you need to know to make delicious and healthy chocolate.
Within the beautiful pages of Chocolate Life you will discover how to create the healthiest, tastiest, and most enjoyable chocolate you and your family and friends have ever had.
Get ready to upgrade your health and your chocolate.
Welcome to Chocolate Life!
The brand new book from Light Cellar owner Malcolm Saunders that invites you to think differently about chocolate, and will expand your perceptions about cacao and empowers you to be your own chocolate maker.

In this 113 page, full color, locally printed book, you will receive 37 recipes and learn countless variations so that you can bring more fun, nourishment and creativity to your kitchen...
"Chocolate Life invites you to dive deep into the story of chocolate, and Malcolm Saunders is your master storyteller."
- Luka Symons, , C.H.N.C., & Author of Histamine Haven