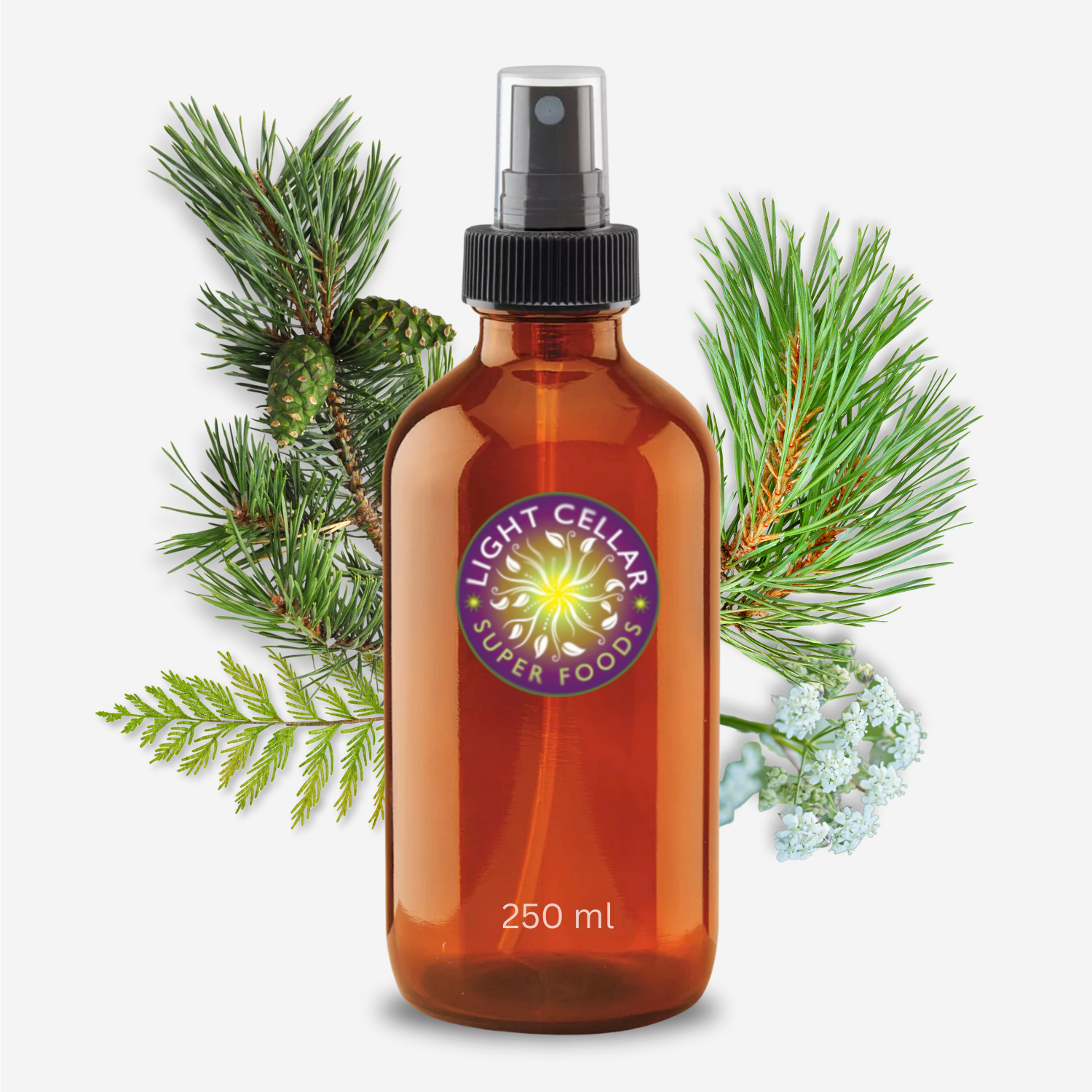 Forest Essence Hydrosol
Pickup available at Light Cellar
Usually ready in 24 hours
Forest Essence Hydrosol
250ml
Light Cellar
Pickup available, usually ready in 24 hours
6531 Bowness Road Northwest
Calgary AB T3B 0E8
Canada
+14034531343
Wild-crafted, house-made 250ml
Western Red Cedar, White Pine, Douglas Fir, Hemlock



It's like forest bathing on demand - anytime, anywhere...
Bring the forest in with this aromatic spray that is excellent for clearing and refreshing spaces as well as calming and grounding your being. The scent of coniferous trees is known to have therapeutic, calming, and relaxing effects on the mind. Use topically or aromatically spraying on yourself, or into a room. Can be added to baths or your own skincare, aromatherapy, and cleaning products. Not for internal use due to the nature of essential oils in cedar.

Made from a combination of steam and hydrodistillation of the fresh needles and boughs of wild-crafted Western Red Cedar, White Pine, Douglas Fir, and Hemlock sustainably harvested from the forests of BC.
Hydrosols are produced by distilling fresh plant materials into therapeutic and aromatic waters.
All of our hydrosols are true hydrosols that result from the long and slow traditional distillation process using an alembic copper distiller from Portugal that is lead-free.
During the distillation, we do not separate the essential oils from the final product, so our hydrosol contains the full potency of the plant and is concentrated and aromatic. They are distilled using fresh plant material allowing us to capture not just all the volatile components of the plant, but more importantly, the cellular water from the living plant. This cellular water is usually lost under the conventional high pressurized steam runs for essential oils, or absent when using only dried plant material. It is this cellular water, imbued with nutritious minerals, phytosterols, antioxidants, and countless other natural botanical chemicals, that imparts our hydrosols with the water-soluble aromatic and therapeutic properties of the plant.
**When Shipping Hydrosols in the winter months, We have noticed freezing temperatures have caused shattering of the bottles. Please be aware of this when choosing to ship in winter. If in Calgary, I suggest using our Local delivery option to avoid freezing the product!
Thank You.