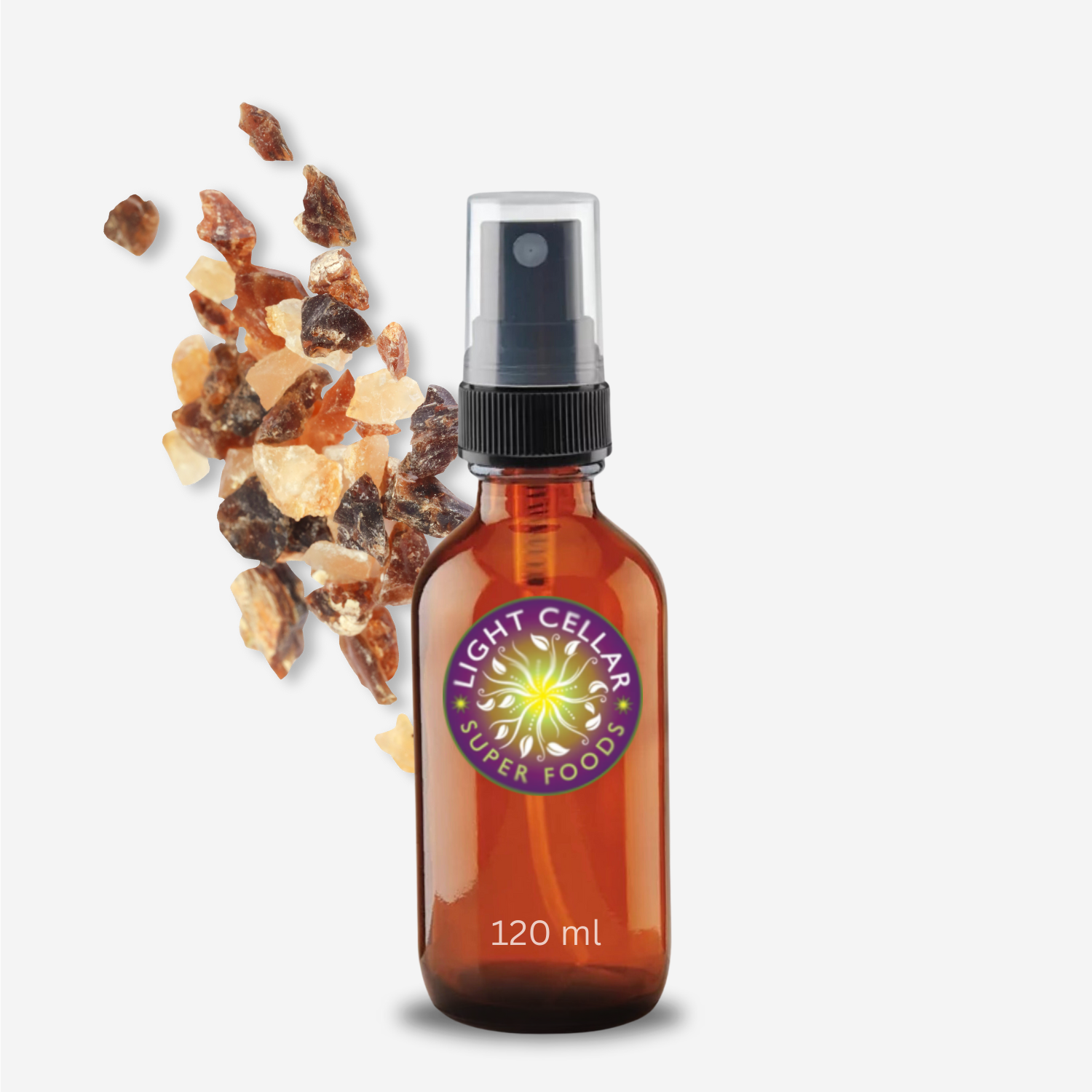 Frankincense & Myrrh Hydrosol
Pickup available at Light Cellar
Usually ready in 24 hours
Frankincense & Myrrh Hydrosol
120ml
Light Cellar
Pickup available, usually ready in 24 hours
6531 Bowness Road Northwest
Calgary AB T3B 0E8
Canada
+14034531343
Frankincense & Myrrh Hydrosol
Boswellia Carterii & Commiphora Myrrha

This magical Frankincense & Myrrh Hydrosol comes from the hydrodistillation of Frankincense and Myrrh resin. Both are very well known for their medicinal and spiritual properties, and as a hydrosol this exquisite blend has an aroma that is balsamic, earthy, and slightly sweet.
Use for skin care, respiratory health, oral care, and for helping wounds and sores to heal.
This hydrosol is believed to be very beneficial for reducing wrinkles and creating a smooth, youthful complexion. Its antiseptic and astringent properties also make it helpful for clearing up acne.
Both Frankincense and Myrrh Hydrosol are astringent, antiseptic, and may be used to help heal wounds, stop infections, and can also be beneficial and a mouthwash or gargle for oral health.
They have been known to help loosen up congestion and may help to alleviate the symptoms of some respiratory conditions. It is an expectorant and a mucolytic.
You can also use the spray aromatically in a room and around your head and energy field as some say this hydrosol help to calm the mind and reduce overthinking, settling the spirit in ways that can be helpful for meditation, prayer, and grounding.
Enjoy by the drop, spritz and/or use 1 tsp - 1 Tbsp per serving.

Apply to your face for a radiant, clear complexion.

Gargle and swish after brushing as well as during cold season to help calm your throat and cleanse breath.
What are hydrosols?
Hydrosols are produced by distilling organic or wild-crafted fresh and dried plant materials into therapeutic and aromatic waters. All of our hydrosols that we make in-house are true hydrosols that result from the long and slow traditional distillation process using an alembic copper distiller from Portugal that is lead-free.
During the distillation, we do not separate the essential oils from the final product, so you can be assured that these hydrosol contain the full potency of the plant.  We prefer to use fresh plant material as this allows us to capture not just all the volatile components of the plant, but more importantly, the cellular water from the living plant. This cellular water is usually lost under the conventional high pressurized steam runs for essential oils, or absent when using only dried plant material. It is this cellular water, imbued with nutritious minerals, phytosterols, antioxidants, and countless other natural botanical chemicals, that imparts our hydrosols with the water-soluble aromatic and therapeutic properties of the plant.
† The statements throughout this site are not intended to diagnose, treat, cure or prevent any disease. Individual results may vary. Seek the advice of a competent health care professional for your specific health concerns. If you have a medical condition or are pregnant please consult your  health care provider before use. Information on this site is for educational purposes only.