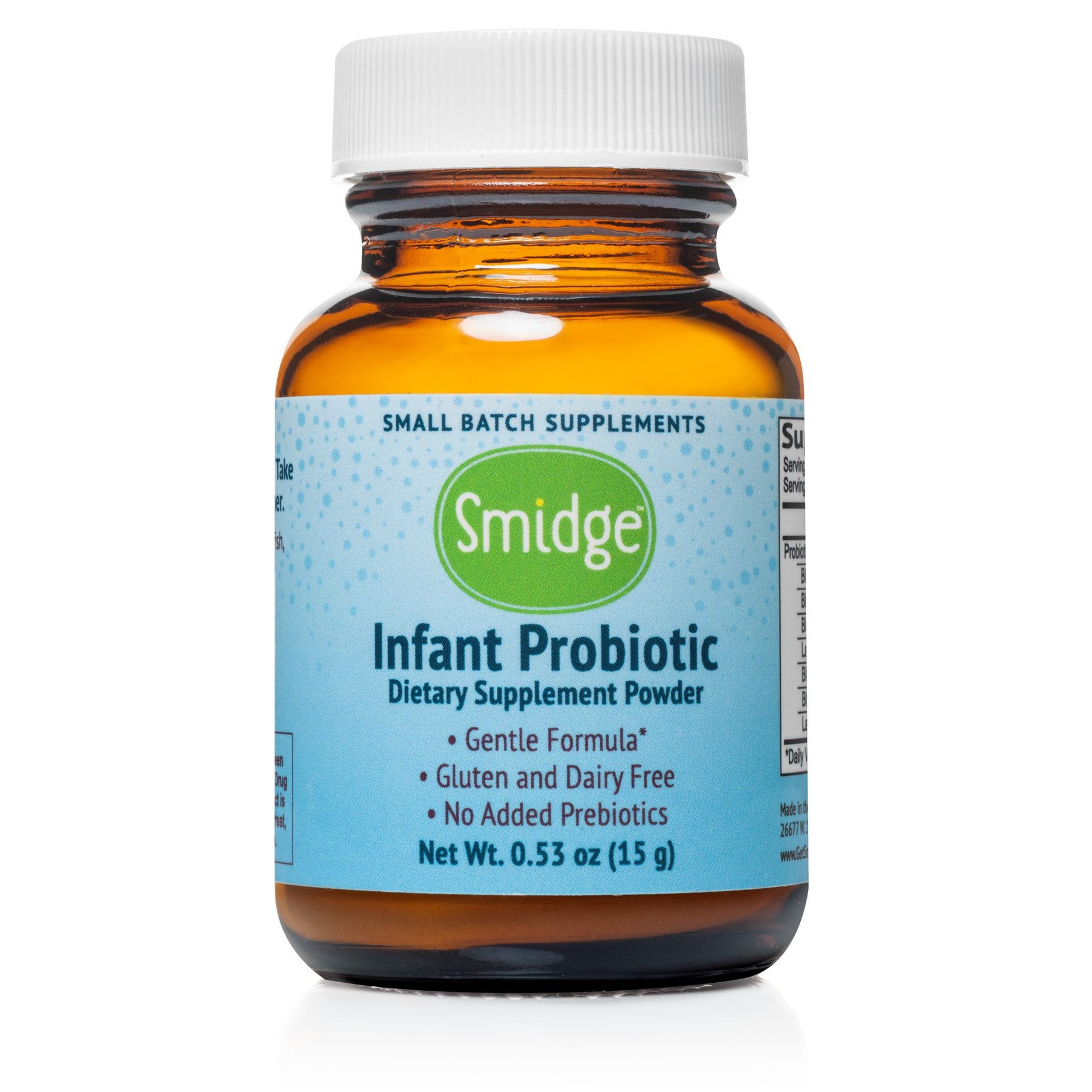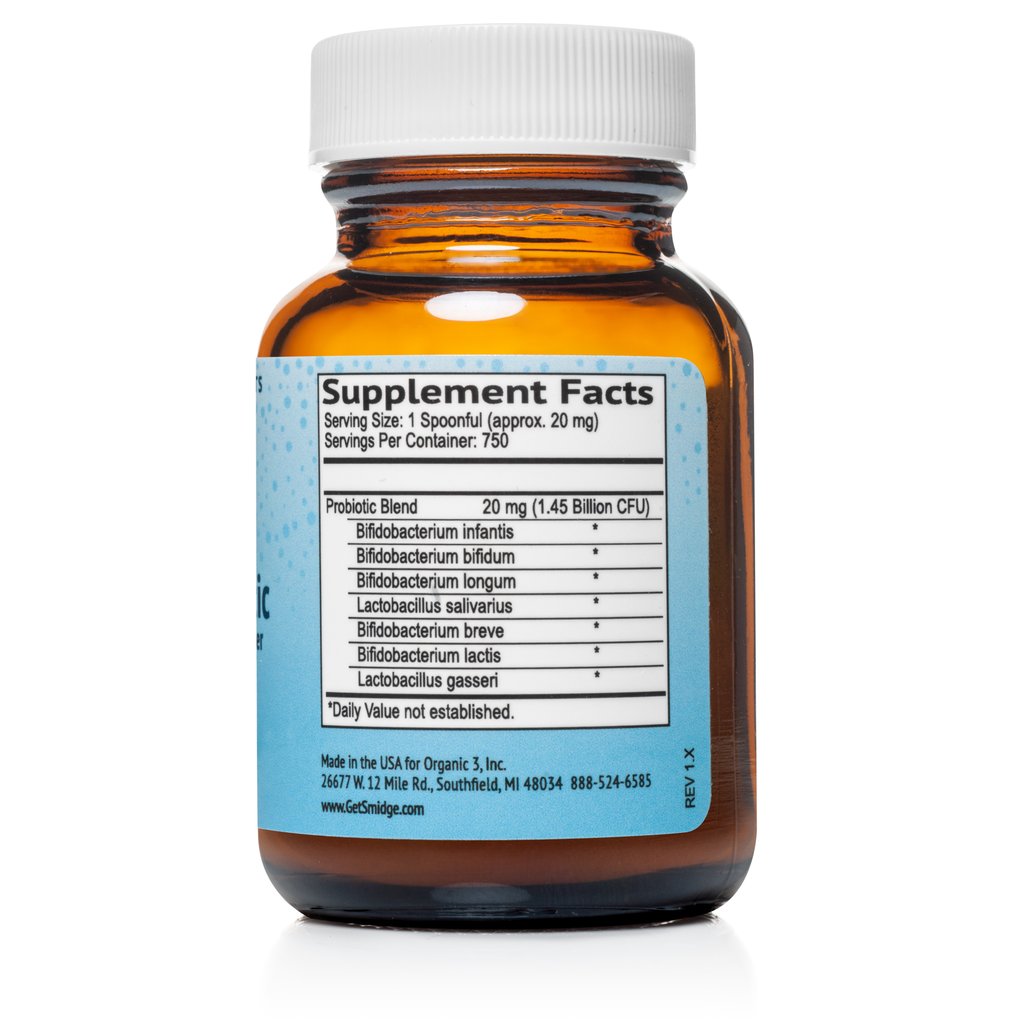 Smidge Infant Probiotic
Pickup currently unavailable at Light Cellar
Light Cellar
Pickup currently unavailable
6531 Bowness Road Northwest
Calgary AB T3B 0E8
Canada
+14034531343
Smidge™ Infant Probiotic (formerly GutPro® Infant)
Introducing our gentle, yet potent Infant Probiotic powder, with the same GutPro® Infant formula you know and love. Created in small batches especially for your baby's developing digestive system.
This pure, custom blend contains seven clinically-proven probiotic strains that are naturally found in healthy infants — to help colonize little intestines with beneficial bacteria from the get-go. It also supports immunity, may help with common baby digestive issues like reflux (GERD), occasional diarrhea and constipation, and even skin issues like eczema.*
Bifidobacterium infantis, a strain that dominates in breastfed babies' intestines, comprises 50% of our formula, as studies show it supports healthy digestion, growth and a robust immune system.*
Just as important, Smidge™ Infant Probiotic does not contain certain strains (or prebiotics) found in other commercial brands that can cause histamine intolerance, d-lactic acidosis or other adverse reactions.
You also won't find common allergens, additives or fillers.
To give you even more peace of mind, we hatched this clean Infant Probiotic blend following extensive research and feedback from certified doctors and health practitioners — and parents like you. Its strains are non-GMO and American Type Culture Collection certified, so all you get are safe, natural baby probiotics for your snuggly bundle of joy!
Comes with a handy dosage spoon so you can measure the perfect amount for your little nugget ;)
Infant Probiotic contains 7 clinically-proven human probiotic strains (B. infantis, B. bifidum, B. breve, B. longum, B. lactis, L. gasseri and L. salivarius (check out our ingredients section for more on the benefits of these probiotics for babies).
Smidge uses only the highest-quality probiotic bacteria: All strains have been thoroughly researched, documented and banked in recognized microbial culture collections. And all strains are non-GMO and American Type Culture Collection certified. 
Dosage:
Always start with a smidge! Use one Smidge™ spoonful (20 mg). Take once a day, with food, or as directed by a certified healthcare practitioner. (See "low and slow" note below.)
Product comes with a dosage spoon.
Start low and slow: Our supplements are premium, pure and potent. Therefore, it's critically important to start slowly, with a lower dosage than recommended. For example, a minimal dose every other day, or even once a week, until you can determine how the supplement affects your body and what feels right for you.
How to take: Use your mini dosage spoon to accurately measure your desired dose of probiotic powder. You can sprinkle Smidge™ Infant Probiotic on lukewarm or cold food. Or it can be mixed in breastmilk, formula, a smoothie or organic milk of choice. For toddlers and older children, the Infant Probiotic can be taken with an organic fat, like butter, ghee, emu oil or coconut oil. See dosage instructions above for more info.
Storage:
Smidge™ Infant Probiotic powder requires refrigeration for long-term storage. Keep away from moisture. Can be kept at room temperature for up to two weeks while traveling.
 Smidge® probiotics contain active freeze-dried bacteria, versus live cultures. Unlike live cultures, which can be destroyed in transit by heat, freeze-dried bacteria hold up well in warm weather, as they remain intact and stable with all of their beneficial properties. This means your probiotics will arrive in optimal condition. (Then once you receive your package, you can put them in the fridge.)
Disclaimer:*These statements have not been evaluated by the Food and Drug Administration. This product is not intended to diagnose, treat, cure, or prevent any disease.