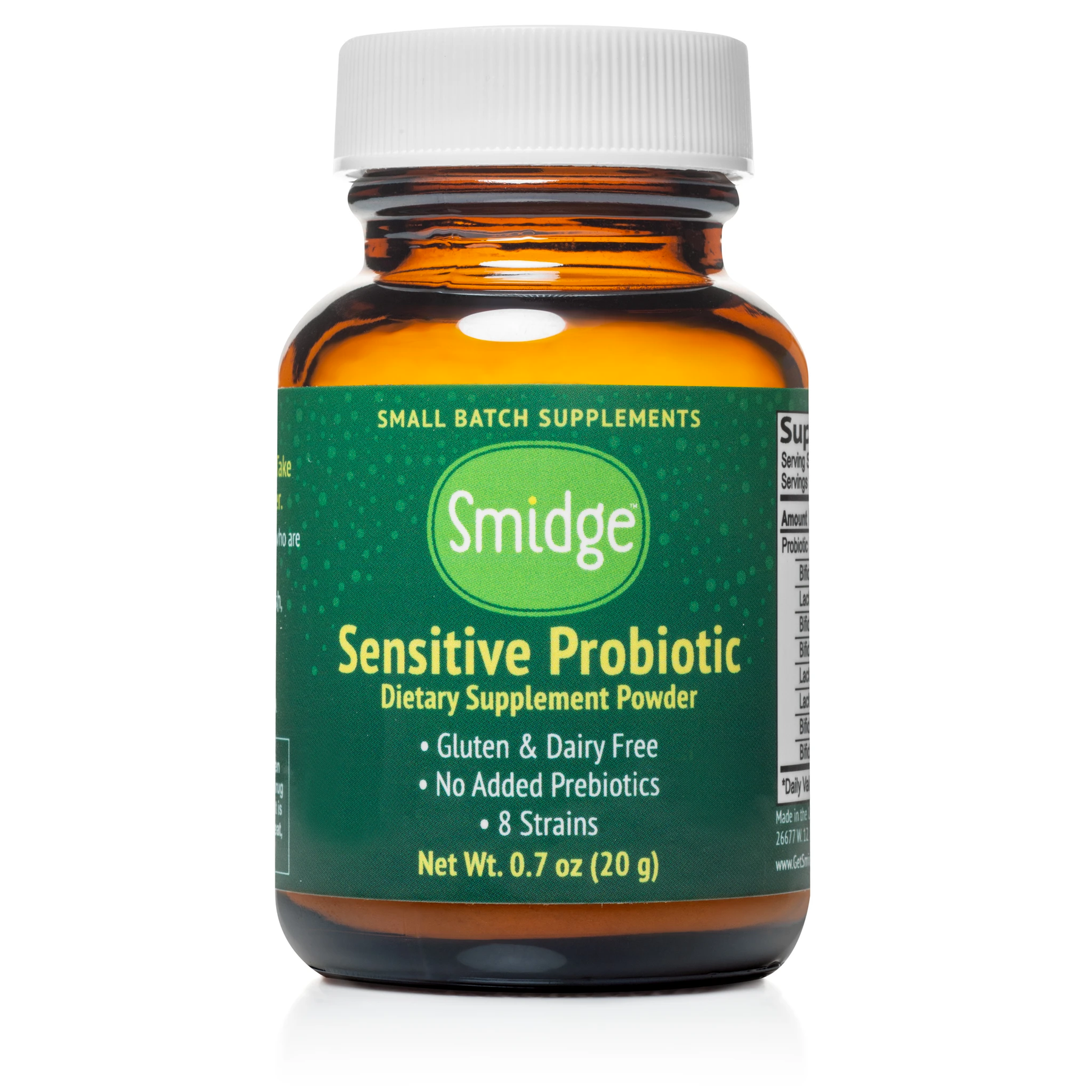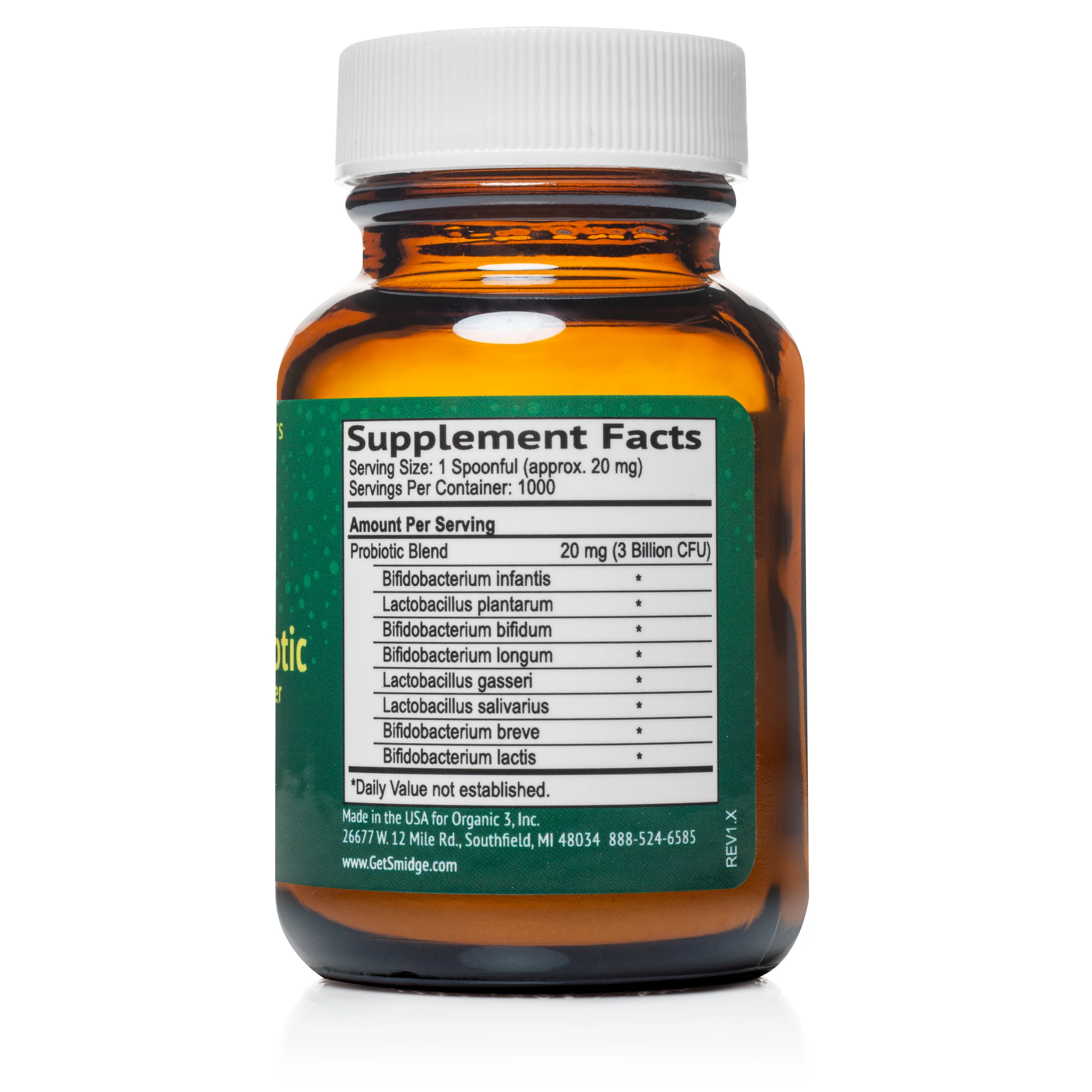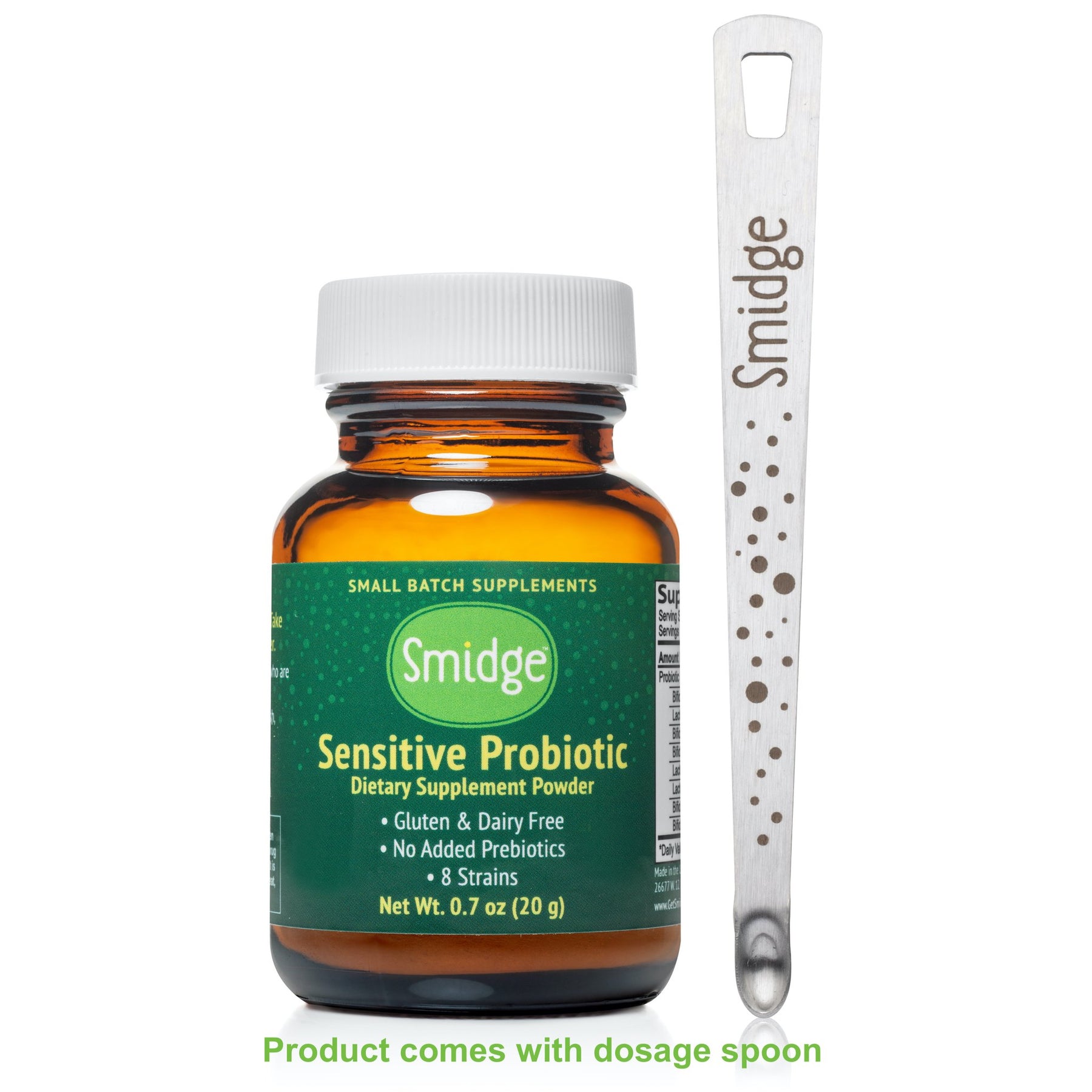 Smidge Sensitive - GutPro Probiotic
Pickup available at Light Cellar
Usually ready in 24 hours
Smidge Sensitive - GutPro Probiotic
Light Cellar
Pickup available, usually ready in 24 hours
6531 Bowness Road Northwest
Calgary AB T3B 0E8
Canada
+14034531343
Smidge formerly known as GutPro®
Probiotic Powder - by Organic 3, Inc.
Same probiotic - new name and brand now called Smidge.
Why did the folks at Organic 3 create Smidge probiotic powder?
Because they heard from people with extremely sensitive digestive systems who weren't able to tolerate other probiotics on the market — and they wanted to provide exactly what they needed:
Pure, potent and therapeutic-grade, Smidge is 100% probiotic powder,
with eight clinically-proven strains of beneficial bacteria.
Most importantly, Smidge is formulated for your comfort. The premium strains are carefully calibrated to help digestion and minimize the potential issues associated with other commercial brands. That means omitting certain strains that can cause histamine intolerance, d-lactic acidosis and other reactions.
Smidge probiotic powder is free of common allergens. All strains are grown on a dairy-free, soy-free, vegetarian, non-GMO culture. Smidge does not contain milk/casein, eggs, fish, shellfish, wheat/gluten, peanuts, tree nuts, yeast, corn or soy.
There is no prebiotics in Smidge. This is because prebiotics like inulin and maltodextrin are often included in other commercial brands as fillers, yet can feed pathogens and cause negative reactions in people with sensitive digestive systems.   
25+ billion probiotic CFUs per 1/32 teaspoon.
Storage:
Smidge probiotic powder requires refrigeration for long-term storage. Keep away from moisture. Can be kept at room temperature for up to two weeks while travelling.
Dosage:
(product comes with dosage spoon)
Young children (3-5 years of age): Add a pencil point amount of Smidge powder to your child's food and increase slowly over time, or as directed by a healthcare practitioner. Do not go beyond half of the smallest measuring spoon. May be taken once daily or every other day.
Older children (5-12 years of age): Add an eighth or a quarter of the smallest measuring spoon of Smidge powder to your child's food and slowly increase over time to half or all of the smallest measuring spoon. For sensitive children and children closer to the age of 5, do not go beyond half of the smallest spoon. May be taken once daily or every other day.
Teens and adults: Start by adding a quarter to half of the smallest measuring spoon of Smidge to food and increase over time. These probiotics for adults may be taken once daily or every other day.
Start low and slow: The digestive health supplements we carry are premium, pure and potent. Therefore, it's critically important to start slowly, with a lower dosage than recommended. For example, a minimal dose every other day, or even once a week, until you can determine how the supplement affects your body and what feels right for you. Organic 3 recommends starting out with just a pencil point amount of probiotic powder.
Ingredients
Smidge contains only the highest-quality probiotic bacteria. All strains have been thoroughly researched, documented and banked in recognized microbial culture collections. Further, all strains are non-GMO and American Type Culture Collection certified.
Below is a list of ingredients in Smidge, and information on why we've included them:
L. gasseri: Lactobacillus gasseri is a strain of the genus Lactobacillus, a family of bacteria naturally found human digestive and urinary tracts. L. gasseri is thought to suppress harmful bacteria, in turn, aiding digestion.
L. salivarius: Lactobacillus salivarius is one of the most prevalent probiotic species in human saliva.
B. bifidum: Bifidobacteria are a group of good bacteria that normally live in the human intestines and stomach. They help the body perform essential functions like digestion and the maintenance of beneficial bacteria.
B. breve: Bifidobacterium breve is one of the most helpful probiotic bacteria in the human body due to its unique in its ability to compete with harmful bacteria by digesting a large variety of molecules. It also comprises the majority of bacteria in the colons of breastfed babies.
B. infantis: Bifidobacterium infantis is a type of beneficial lactic acid bacteria naturally found in the human mouth and gastrointestinal tract; and it helps maintain a healthy digestive tract. 
B. Longum: Bifidobacterium longum is a species of microscopic, non-pathogenic bacteria found naturally in the gastrointestinal tracts of humans. It produces lactic acid from the fermentation of sugar in the gut and is one of the first bacteria to colonize our bodies at birth.
B. lactis: Bifidobacterium lactis is an effective transient probiotic bacteria that inhabits the human intestines and the colon in great numbers. Generally, its function is to break down body waste and aid in the absorption of various vitamins and minerals.
L. plantarum: Lactobacillus plantarum is a plant-based, beneficial probiotic strain that's naturally found in fermented foods like sauerkraut.
Smidge® probiotics contain active freeze-dried bacteria, versus live cultures. Unlike live cultures, which can be destroyed in transit by heat, freeze-dried bacteria hold up well in warm weather, as they remain intact and stable with all of their beneficial properties. This means your probiotics will arrive in optimal condition. (Then once you receive your package, you can put them in the fridge.)
Disclaimer:*These statements have not been evaluated by the Food and Drug Administration. This product is not intended to diagnose, treat, cure, or prevent any disease.