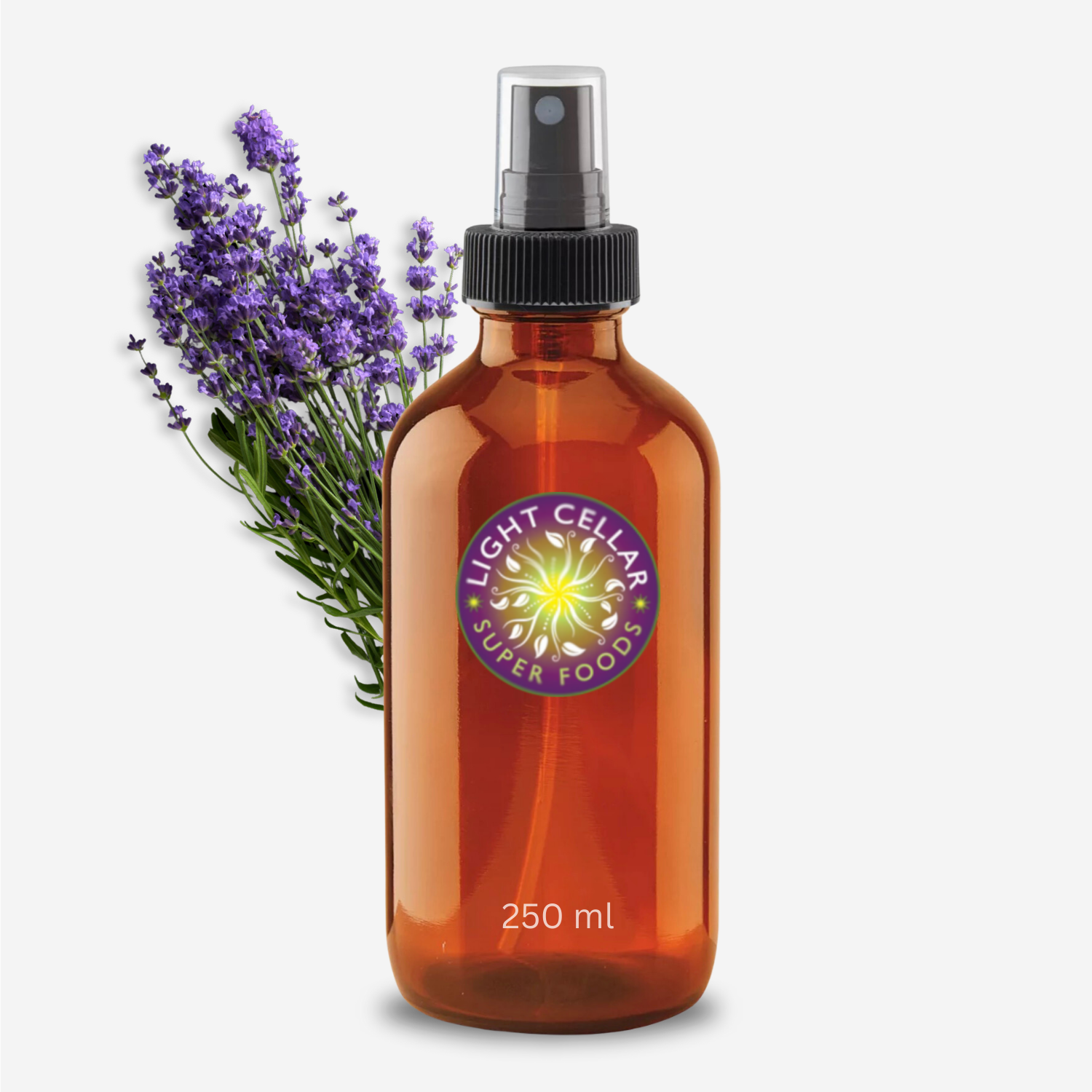 Lavender Hydrosol
Pickup available at Light Cellar
Usually ready in 24 hours
Light Cellar
Pickup available, usually ready in 24 hours
6531 Bowness Road Northwest
Calgary AB T3B 0E8
Canada
+14034531343
Lavender
Lavandula x intermedia
The name lavender comes from the Latin verb "lavare," meaning "to wash."
Mentally refreshing and marvelous for the emotions, the famous herbalist Nicholas Culpeper stated that lavender is especially helpful for all the griefs of the head.
Lavender hydrosol is a refreshing yet relaxing distillate and among the most popular hydrosols used in aromatherapy. It is very useful for beauty, health and wellness.
Our lavender hydrosol is not a by-product of essential oil manufacturing, but rather a whole hydrosol produced from the lavender flowers. This is a beautiful, high quality aromatic product suitable for therapeutic and internal use.
Lavender is known to be anti-inflammatory, calming, sedative, and have soothing and antidepressant qualities. 
It has a deep floral aroma, and can be sprayed on skin, face, or into the throat to help relieve a sore throat. It is refreshing, cooling and soothing and suitable for all skin types, even the most sensitive. Use directly on skin as it is very gentle and safe to use for those with allergies, scent irritations, acne and rosacea.
It makes an excellent base for skin toners and sprays to treat rashes and all variety of skin conditions.
For culinary inspirations this may be used on its own to give a delightful, floral flavor to desserts and drinks of all kinds.
This hydrosol is also a fantastic ingredient for homemade cleaning solutions.
Use in baths, saunas, and humidifiers. Is antiseptic. Spray to freshen up a room and linens (spritzing sheets or when ironing).
Considered to be an extraordinary all-natural insect repellent. 
Safe to consume Internally: Enjoy by the drop, spritz and/or use 1 tsp - 1 Tbsp per serving. Add to teas, Elixirs, or desserts. Use topically or internally as inspired.
What are hydrosols?
Hydrosols are produced by distilling organic or wild-crafted fresh and dried plant materials into therapeutic and aromatic waters. All of our hydrosols that we make in-house are true hydrosols that result from the long and slow traditional distillation process using an alembic copper distiller from Portugal that is lead-free.
During the distillation, we do not separate the essential oils from the final product, so you can be assured that these hydrosol contain the full potency of the plant.  We prefer to use fresh plant material as this allows us to capture not just all the volatile components of the plant, but more importantly, the cellular water from the living plant. This cellular water is usually lost under the conventional high pressurized steam runs for essential oils, or absent when using only dried plant material. It is this cellular water, imbued with nutritious minerals, phytosterols, antioxidants, and countless other natural botanical chemicals, that imparts our hydrosols with the water-soluble aromatic and therapeutic properties of the plant.
**When Shipping Hydrosols in the winter months, We have noticed freezing temperatures have caused shattering of the bottles. Please be aware of this when choosing to ship in winter. If in Calgary, I suggest using our Local delivery option to avoid freezing the product!
Thank You. 

† The statements throughout this site are not intended to diagnose, treat, cure or prevent any disease. Individual results may vary. Seek the advice of a competent health care professional for your specific health concerns. If you have a medical condition or are pregnant please consult your  health care provider before use. Information on this site is for educational purposes only.